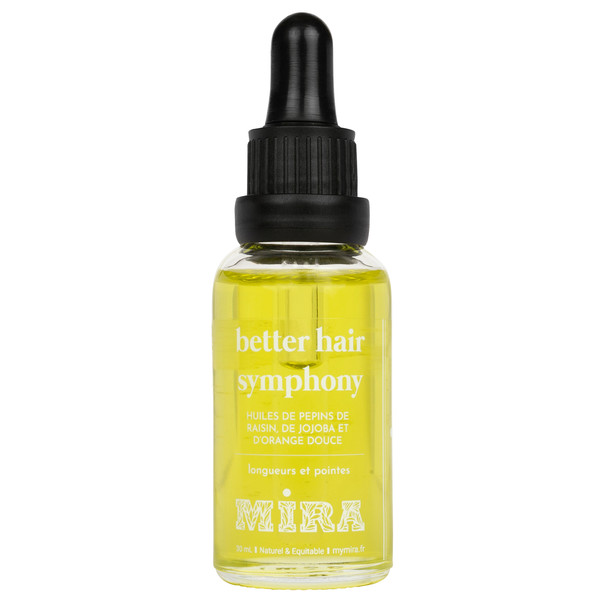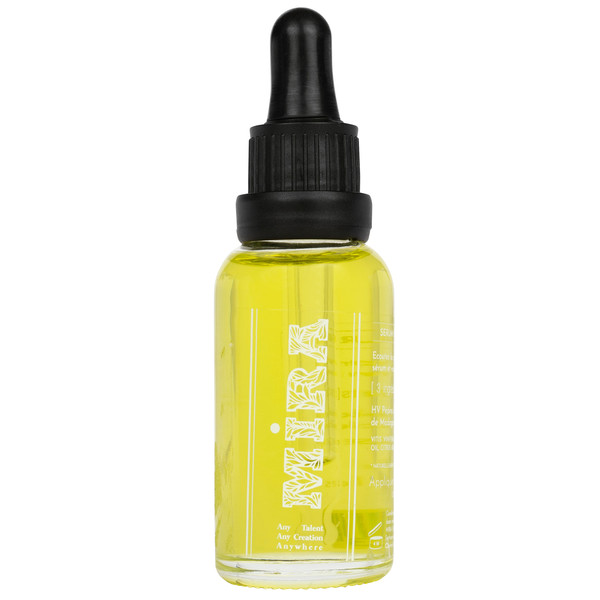 BETTER HAIR SYMPHONY
Our Better Hair Symphony Oil is a simple and effective blend of grape seed oil from Provence, golden Jojoba oil from Madagascar, and sweet orange essential oil from Sicily. Very dry oil with a fine touch. We have formulated it for all hair types, with a preference for dry hair and dry ends. A little goes a long way to protect your hair from external aggressions, nourish your hair fiber and regulate the production of bum at your roots. Like all our natural care products, our hair oil is formulated with 100% traced ingredients. Here, France, Madagascar and Sicily.
.
>
30ml bottle
l'utilisation.



Apply a few drops of our hair oil to the lengths and ends in the morning or evening. Apply a few drops throughout the day when needed, the oil sèche is absorbed directly and does not require rinsing. To you the sweet smell of citrus and cinnamon to accompany you!
.
No worries here if your hair has an oily tendency, the green oils are immediately absorbed and nourish the hair fiber. Better Hair Symphony - Christmas Edition is an ideal ally to get through the day with a little holiday cloud around you.
.
M'aider à choisir
En savoir plus ...
Nos recettes
This is for you if:
- The citrus and cinnamon scents take you on a journey (put a few drops in your hair, and the next morning, wake up to Noël)
- Looking for a nourishing dry oil, to boost your hair when it needs it
- You want to support the French creation of puns, and that we are very proud of
No need for recipes for this key care, softness à wear bottle! You can still if you wish dilute it by half in pure Jojoba for example, if you want a more subtle smell.
We wanted a very fluid oil, applicable in seconds and drops on the tips and lengths.
The idea was to take you with us to Provence, where the grape pines come from the vineyards of the entire southern part of France, to give once pressed this soft, fluid, gentle oil.
To make you pass through the South of Sicily, où if you have the opportunity to pass there: the orange and lemon groves would intersect with small stone roads; à right the land and in the distance Etna, à left the sea.
Farther on is the Jojoba of Madagascar, with its beautiful golden color, and its balancing and softening properties.
All in all: a simple care product, with a very short list of ingredients, for nomadic use and pleasure!
3 exceptional products.
A simple composition
A very short list of ingredients for maximum effect and minimum superfluity!
It is a combination of grape seed oil, jojoba and sweet orange essential oil from Sicily.
Among the precious active ingredients of these oils:
Oleic acid (Oméga 9):
One of the three essential fatty acids: to nourish your skin over the long term, restore its suppleness, repair it. The bum is composed of 30% of it.
Starch acid (18:0):
A structuring fatty acid. The skin's natural serum is composed of 11% of it.
Vitamin B:
Gainful, strengthening, nourishing. Grâce à this vitamin, jojoba oil is so effective for your hair. Your ends will thank you.
Vitamin E:
The natural preservative. No need for additions or chemicals, vitamin E is naturally present in jojoba oil. The anti-acute action is thanks to
Liste INCI
VITIS VINIFERA SEED OIL, SIMMONDSIA CHINENSIS SEED
OIL, CITRUS AURANTIUM DULCIS PEEL OIL, LIMONENE*
 
* NATURELLEMENT PRESENTS DANS L'HUILE ESSENTIELLE D'ORANGE
* compounds naturally present in essential oils, always perform a small allergy test in the crook of your elbow before using a cosmetic product.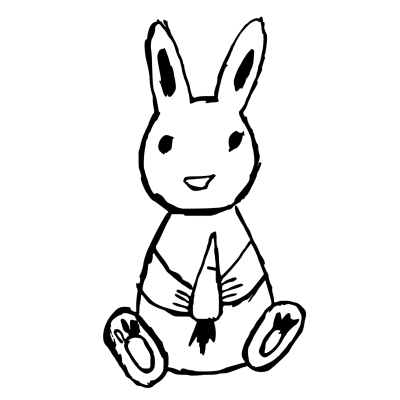 Vegan products
and not tested on animals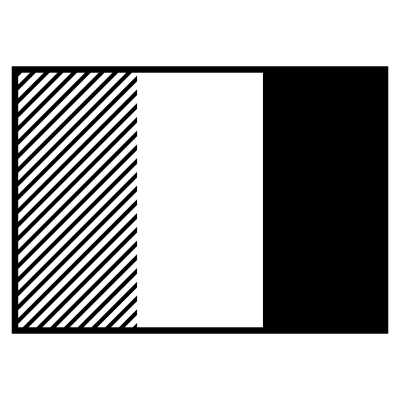 Designed, produced, manufactured in France
cocorico!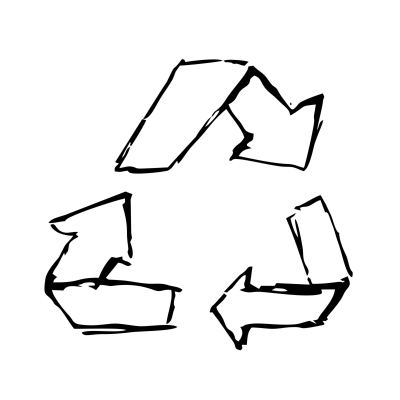 100% glass bottles
and made in Europe.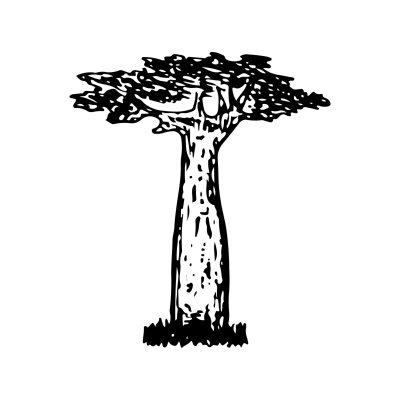 No chemicals.
Never.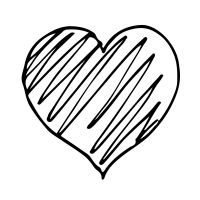 Happy customers.
thanks!

Beautiful pipettes
(made of glass and bamboo)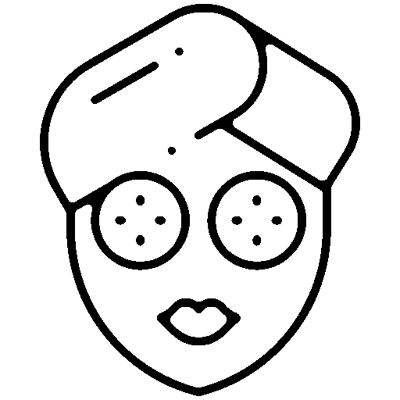 Relax
We take care of everything!
Questions you may have about our natural daily hair care
What is a dry oil? Can it be used on the body and face as well?
An oil is said to be dry if it penetrates the skin or hair fiber quickly. They can generally but not exclusively penetrate deeper into the layers of the skin. We speak of dry oils as opposed to fatty oils (such as castor oil or Coconut oil for example), which have a tendency to stay more on the surface, ideal therefore for a mask or a long massage.
It is quite possible to use a dry oil on the face and body, as it provides its benefits in depth. Here, our Better Hair Symphony is recommended primarily for your hair, and has been formulated for.
The best way to use it is to apply it to your hair.
When to put a dry oil in your hair?
This oil has been formulated to be a daily care, usable evening, noon, morning, depending on your availability and the amount used. The idea of this treatment is to use a few drops in the time to nourish your tips, or half a pipette if you want to linger a little on the lengths.
.
Please use as much as you need, this little bottle will transport you to the Christmas market place with its bewitching scent.
What is the best hair oil for dry hair and dry ends?
Vast question! If you want our advice: it's a dry oil or a blend of dry oils, which you enjoy using! That's why we wanted to provide you with a turnkey skincare product that smells great, and the best advice we can give you is to test it to see if it's right for you.
The best way to get the most out of your skincare is to try it out.
Other pure oils or swabs are also quite possible in dry use, such as our pure hemp oil or our pureful Jojoba oil purely, let your desires guide you! Be careful, however, the quantity, so as not to have the feeling of greasy hair or the feeling of a hair too shiny.
Why do we say that an oil is moisturizing, regenerating, or nourishing for the scalp?
These terms are often used to describe virgin oils and multi-purpose skincare, and we wanted to clear it all up for you.
We're talking about a moisturizing oil in a rather unhelpful way. In reality, your scalp needs fatty acids (found in oils) and water. A classic vegetable oil will not bring water to the scalp: it will actually prevent this scalp from losing this water: this is called hydration by abuse of language.
.
We speak of an oil réparatrice, when it will help the scalp à rénérer : it may be the provision of essential fatty acids, the creation of a protective film that protects against external aggression, or an anti-oxidant action that will fight against the premature de-graduation of the scalp for example.
We finally speak of a nourishing oil, when the active compounds (sterols, essential fatty acids, vitamins), will be able to be absorbed by the skin for its own preservation.
Is the use of this oil suitable for curly hair?
All done! To bring suppleness and flexibility to your curls, the virgin Jojoba oil in this treatment will allow your curls to be more dynamic, and shiny. To maintain them as such, however, we recommend more suitable oils such as avocado virgin oil or Baobab oil from Madagascar, ideal for forming beautiful curls and keeping them there!
your review
Questions (0)
Most recent (20)
5 stars (4)
4 stars (0)
3 stars (0)
2 stars (0)
1 star (0)
Romane
After purchase.
Review verified on 19/02/2023
Chloé
After purchase.
Review verified on 05/09/2022
Mes cheveux sont plus doux, j'adore !
alix
After purchase.
Review verified on 05/09/2022
Anne
After purchase.
Review verified on 04/02/2022
Ask us a question
Questions are carefully checked against the email addresses left or according to their relevance, in order to avoid commercial and advertising solicitations.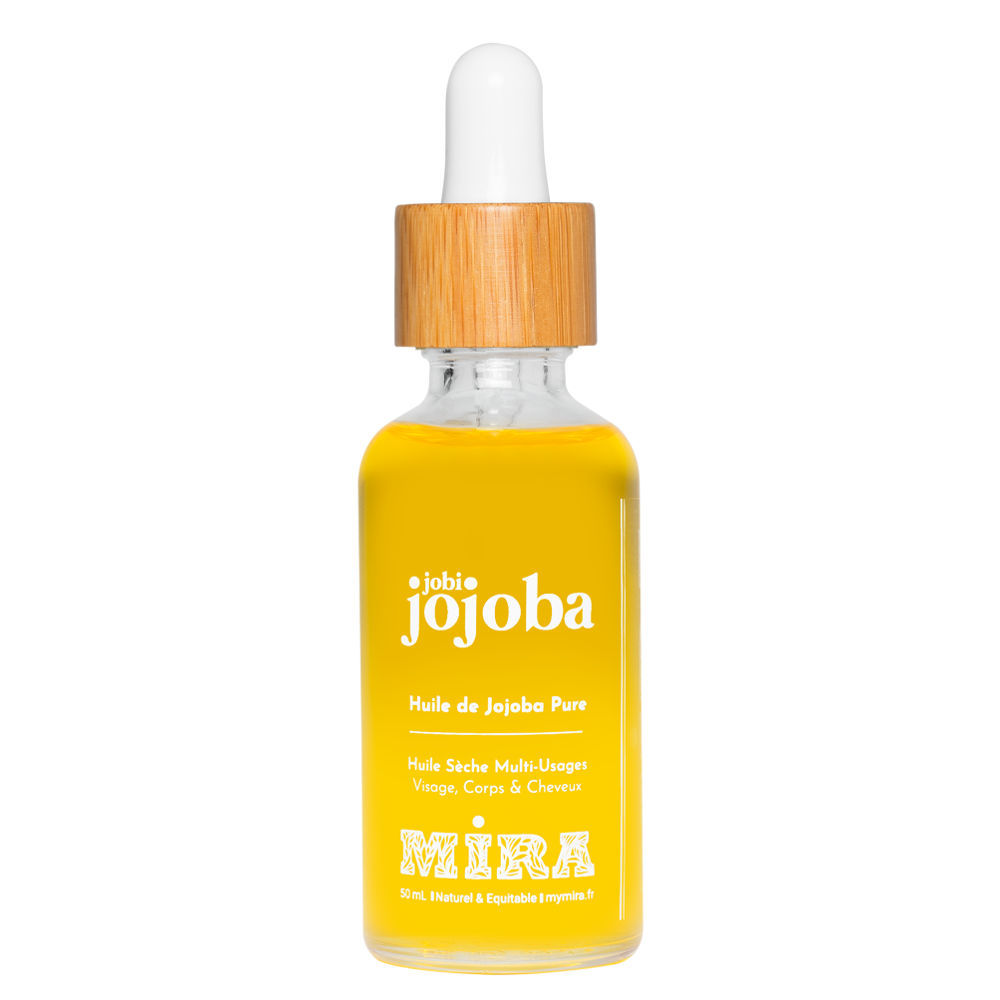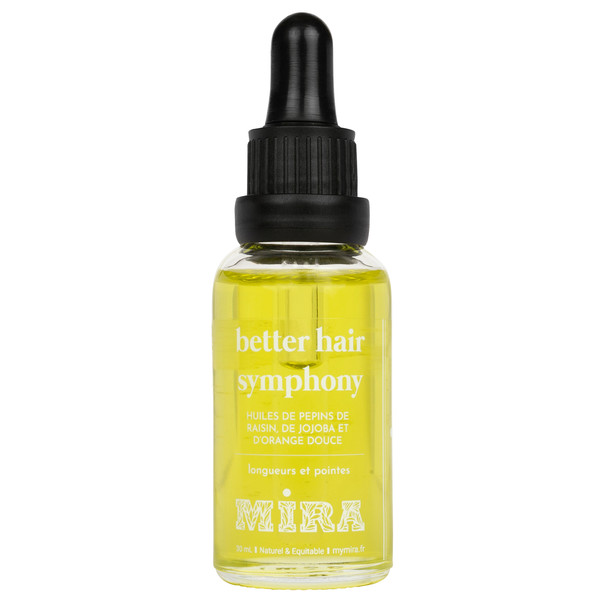 natural.
Nature is beautiful, we take care of it. Our products are made with a healthy environment in mind. We respect the earth and its production cycle.
Unique.
All our products are raw, natural, unrefined. They keep all their power. 100% natural, 100% effective.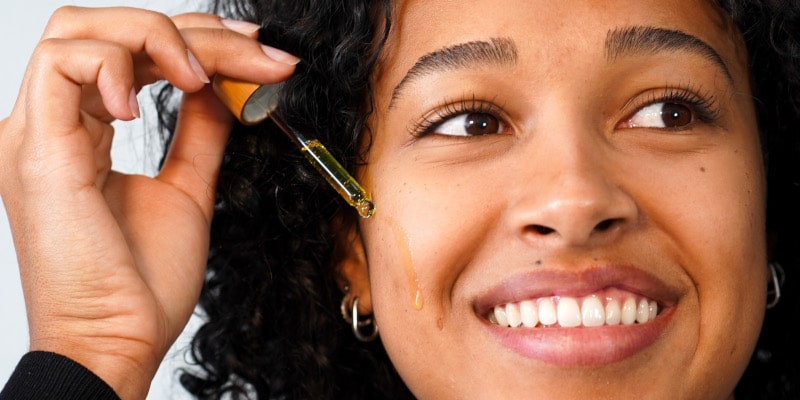 Human.
We tell you where each product comes from. You know where they come from. You know who makes them. And how. Transparent.
The team.
We are three friends with a passion for respecting artisans, natural, unprocessed and rare products.
Free shipping
in France from 39 €
prepared in 24h