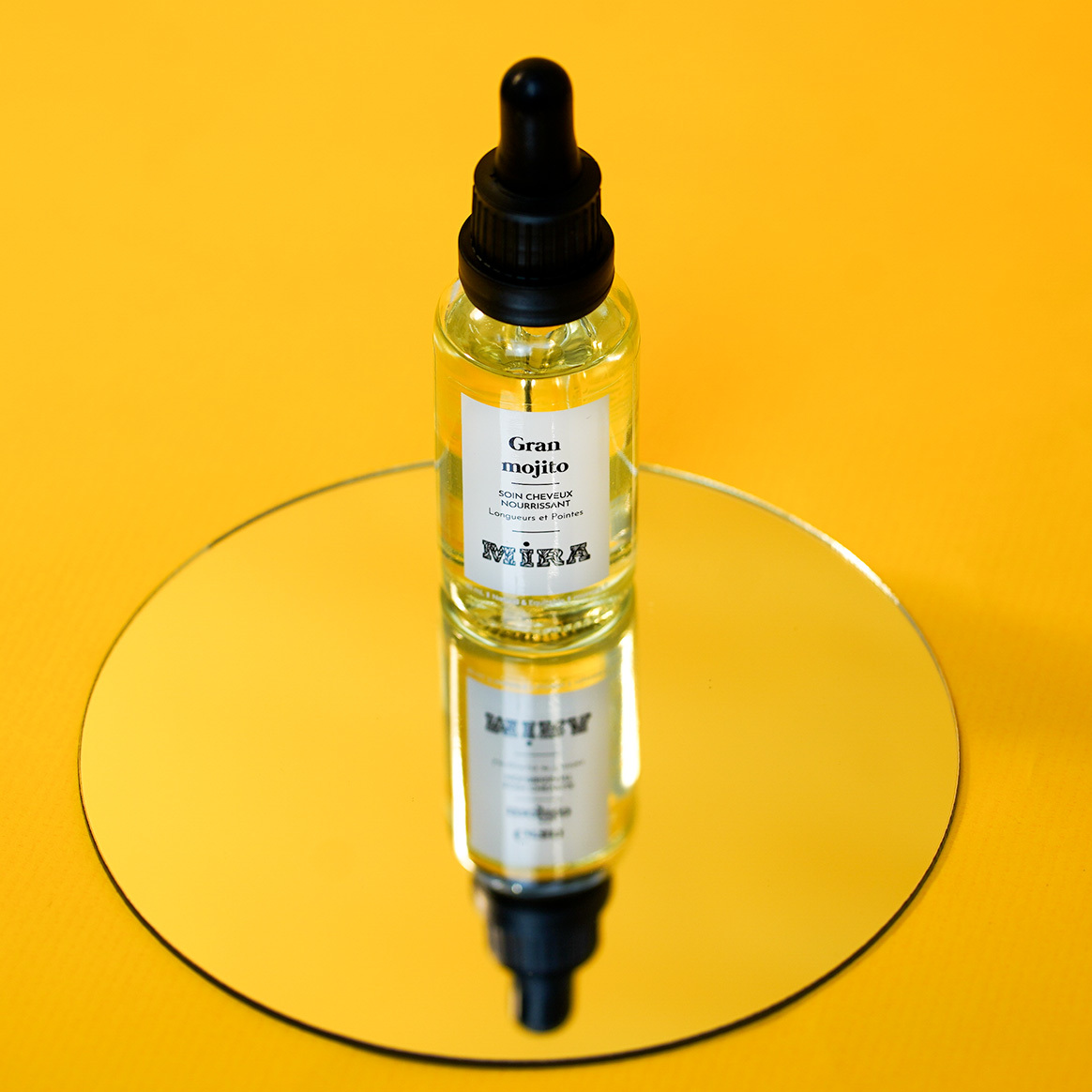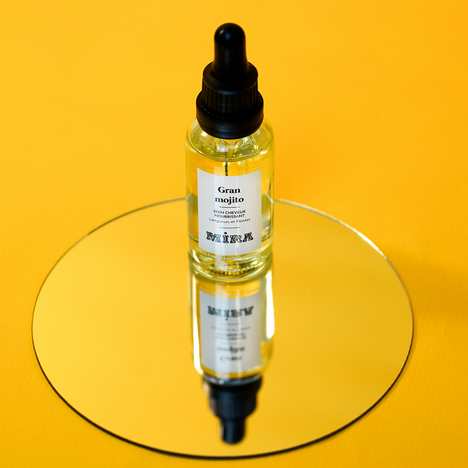 GRAN MOJITO
The mojito, a great classic, you might say. If you already know the virgin mojito, the blue mojito or the bajito... you can now complete your list with the Gran Mojito: the variant by Mira. This one, we don't advise you to drink it but we assure you that it will make you turn your head.
At Miratelier, spearmint and Sicilian citrus are blended with Sunflower, Safflower and Fenugreek oil. The result is a fresh, highly vitaminized cocktail that goes straight to your hair. Applied on your lengths and ends, Gran Mojito nourishes and boosts your hair. A shot of freshness without rinsing, use whenever you want.
Please note that this product is made in Canada.
Made in France and more precisely in the Ardennes, our hair oil comes in its 30 ml glass bottle, accompanied by its pipette and its bamboo lid. Officially the first cocktail under which you will be able to read: the abuse of Gran Mojito is healthy, consume without moderation.
.
l'utilisation.



Gran Mojito is used as a daily care without rinsing. Suitable for all hair types, 1/2 a pipette of this hair oil spread over your lengths to your ends is enough to nourish your hair. Don't overdo it on the ends.
This hair cocktail can be used without moderation. Apply as needed.
M'aider à choisir
En savoir plus ...
Nos recettes
This is for me if:
- I am looking for a nourishing, vitamin-rich, leave-in hair oil
- I want to nourish my lengths and ends
- I want sunshine and... (chicks? no) a fresh mint and citrus smell
le lieu.
It is under the sunlight of the French tropics that the noble plants behind our nourishing hair oil, Gran Mojito, grow. From La Rochelle to Burgundy, our producers cultivate with passion the lands that make our oils what they are: raw, natural and full of active principles. And if sometimes, we must admit, the sun comes to miss, it is with love and fresh water that these highly pampered plantations are bathed.
.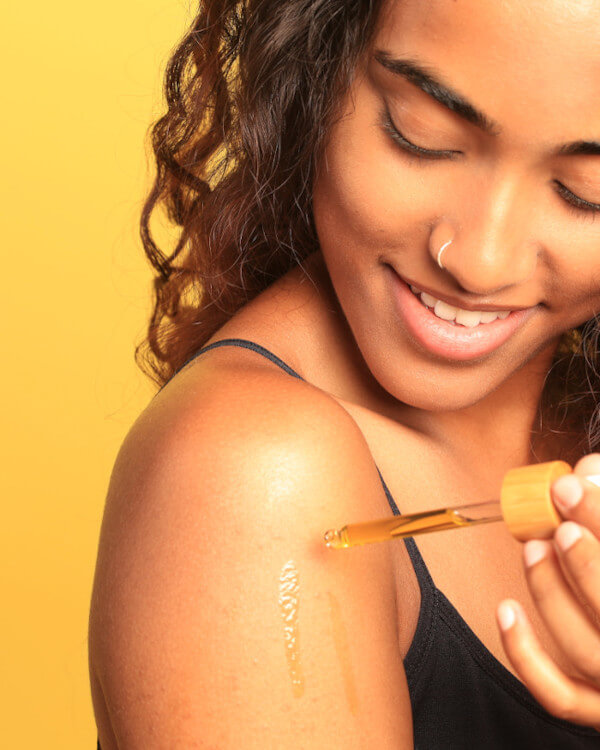 Vitaminized. Natural. Vegetal.
A 100% French composition, true and fair to bring the boost your hair needs.
Sunflower Oil:
Although mostly used in cooking, sunflower oil has many qualities for the hair thanks to its high composition of vitamin E, essential fatty acids and omega-6. In addition to promoting their natural hydration, it brings flexibility and vitality to your lengths.
Safflower Oil:
Safflower oil has very interesting soft properties for the hair, it retains water in the hair fiber and sheathes it naturally. Watch out, the beautiful curls are going to come back!"
Fenugreek oil:
The oil contains mostly omega-6 and omega-9. These fatty acids have nutritive and softening qualities. Fenugreek oil adds shine and suppleness to the lengths.
.
Sicilian Spearmint and Citrus Essential Oils:
It's this sweet combo of essential oils that makes our cocktail so fresh and vitaminized. This pleasant scent will help you get your day off to a good start
.
Liste INCI
HELIANTHUS ANNUUS SEED OIL, CARTHAMUS TINCTORIUS SEED OIL, TRIGONELLA FOENUM-GRAECUM SEED OIL, MENTHA VIRIDIS LEAF OIL, CITRUS AURANTIUM DULCIS PEEL OIL (SICILE), CITRUS LIMON PEEL OIL (SICILE)
* compounds naturally present in essential oils, always perform a small allergy test in the crook of your elbow before using a cosmetic product.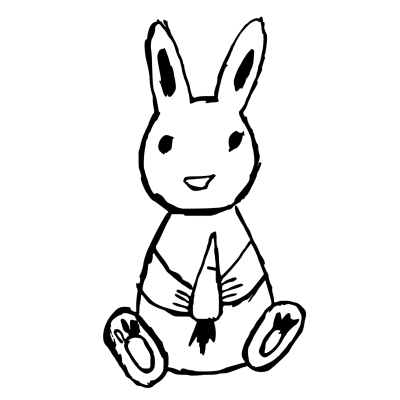 Vegan products
and not tested on animals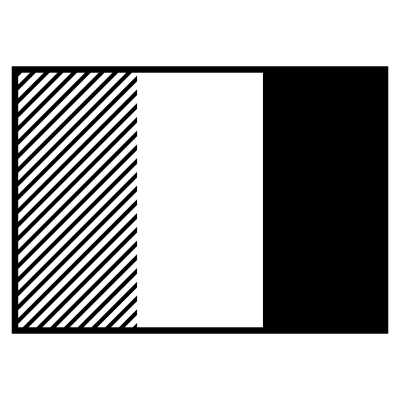 Designed, produced, manufactured in France
cocorico!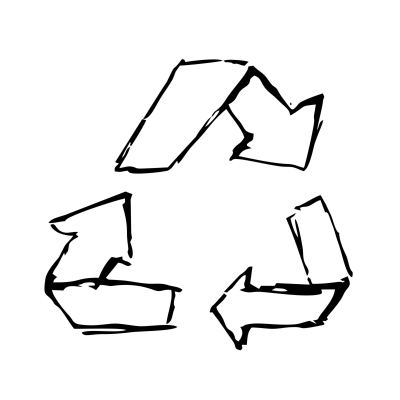 100% glass bottles
and made in Europe.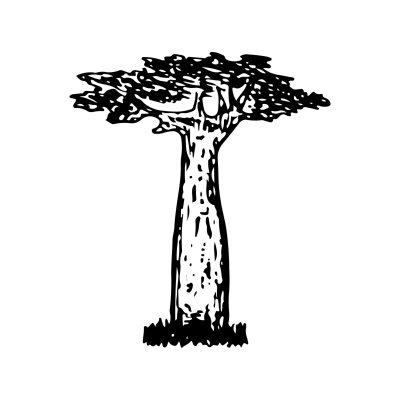 No chemicals.
Never.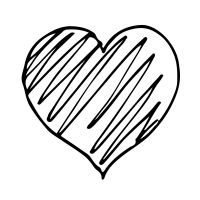 Happy customers.
thanks!

Beautiful pipettes
(made of glass and bamboo)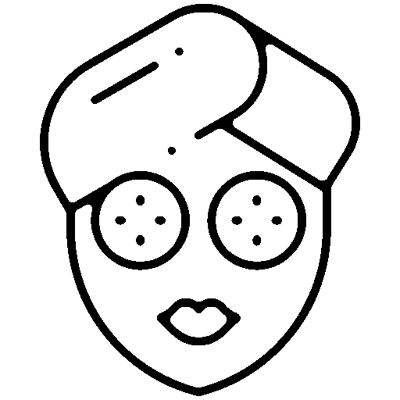 Relax
We take care of everything!
your review
Questions (0)
Most recent (20)
5 stars (1)
4 stars (0)
3 stars (0)
2 stars (0)
1 star (0)
Marie
After purchase.
Review verified on 18/04/2023
Ask us a question
Questions are carefully checked against the email addresses left or according to their relevance, in order to avoid commercial and advertising solicitations.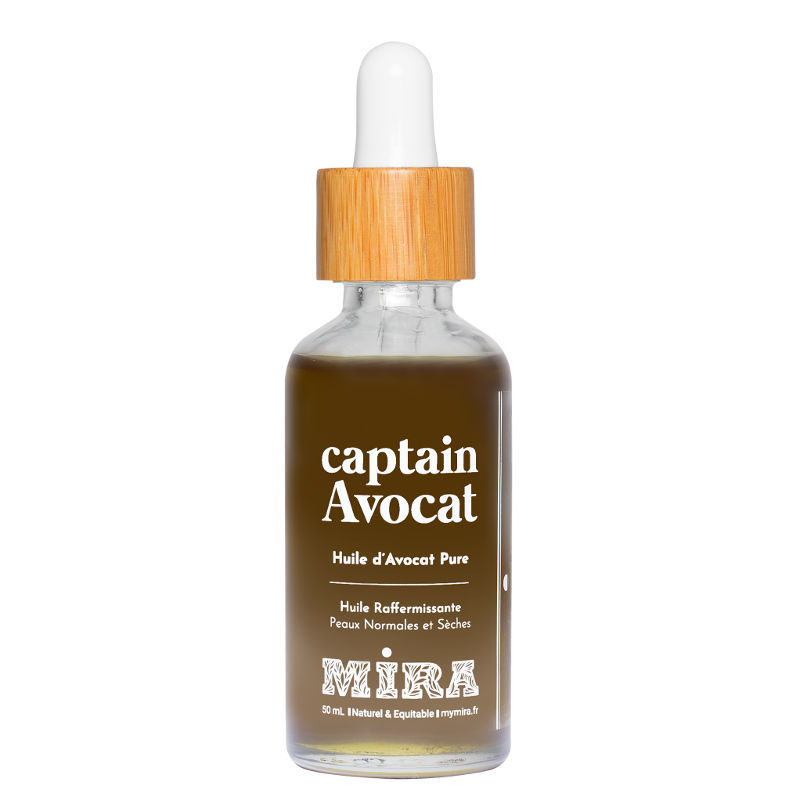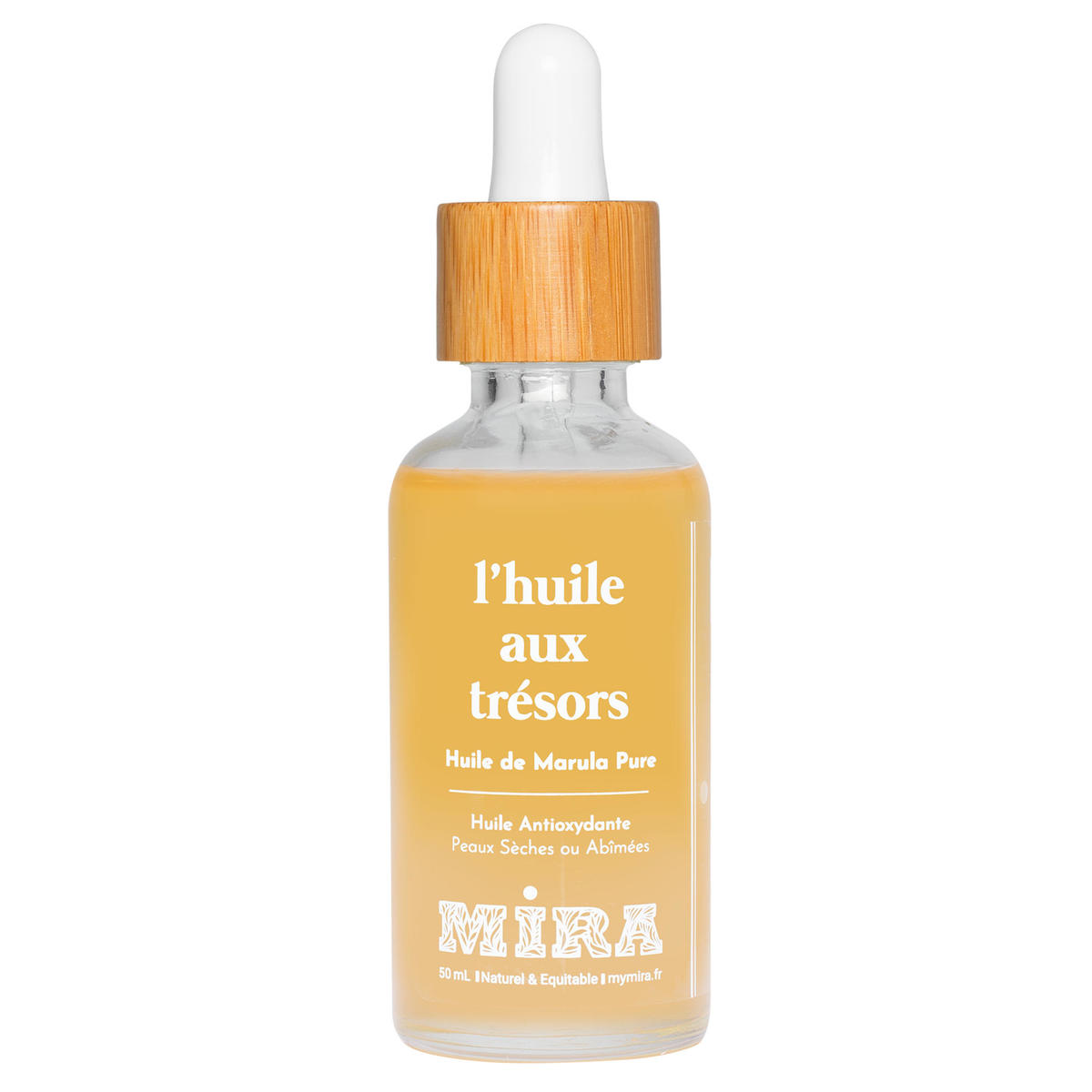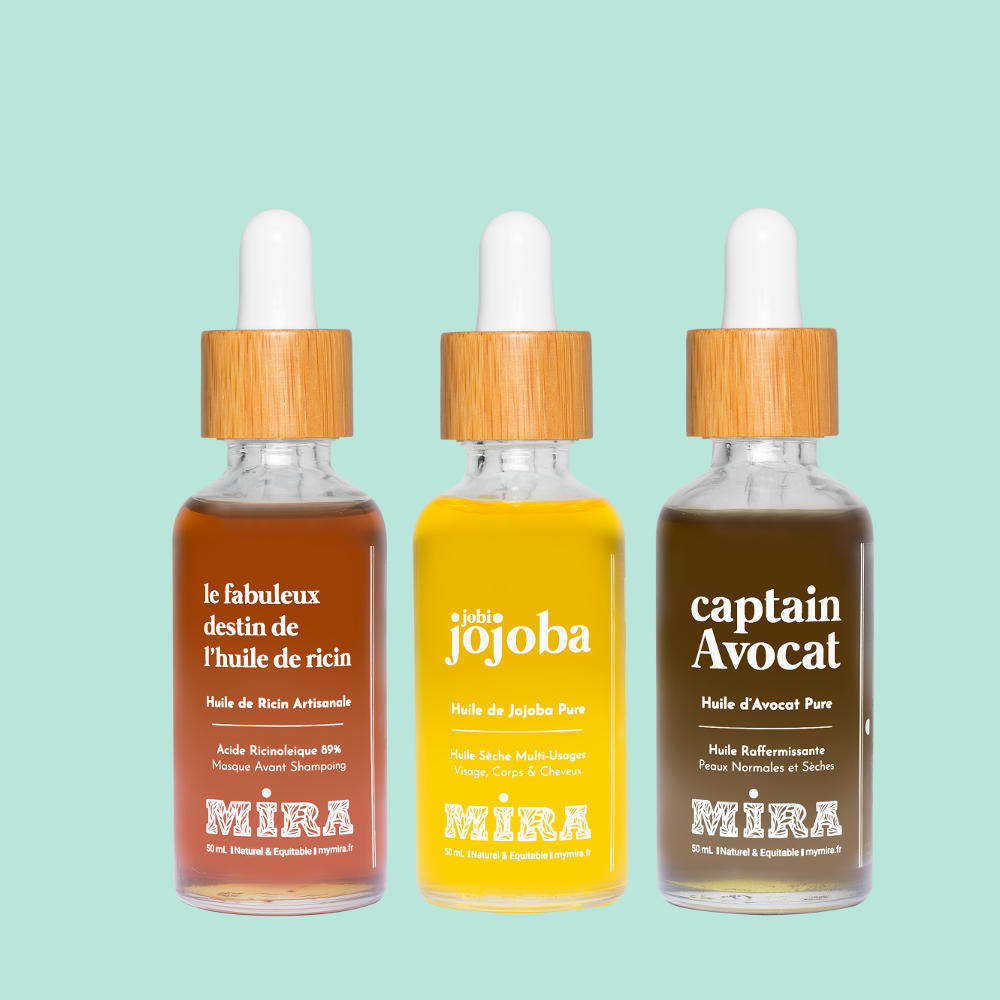 natural.
Nature is beautiful, we take care of it. Our products are made with a healthy environment in mind. We respect the earth and its production cycle.
Unique.
All our products are raw, natural, unrefined. They keep all their power. 100% natural, 100% effective.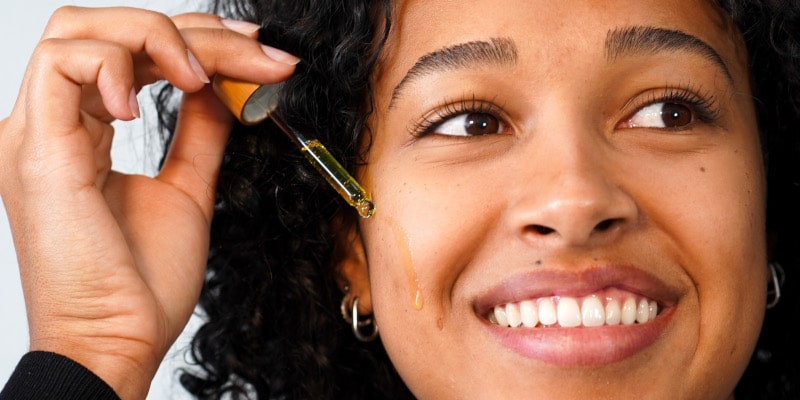 Human.
We tell you where each product comes from. You know where they come from. You know who makes them. And how. Transparent.
The team.
We are three friends with a passion for respecting artisans, natural, unprocessed and rare products.
Free shipping
in France from 39 €
prepared in 24h